A journey to the international bear conference in Alaska, captured in a short documentary film
Project summary
We are raising money to travel to Alaska, attend the International Bear Research and Management conference and create a short interview-based documentary about the scientists, their wildlife conservation stories and how each person can make a difference. I have a passion to share conservation stories and show others what amazing works people do around the world to preserve our ecosystems and the species that live in them. My work with European brown bears in Greece during my placement year laid the groundwork for my dissertation and also earned me an invitation to present my project at the 24th International Conference on Bear Research and Management in Alaska this summer (12-16th of June) (http://www.cvent.com/events/24th-international-conference-on-bear-research-and-management/event-summary-0536820866ca4e26a375fba0375d8e2b.aspx). It is so rare for an undergraduate to be invited to an international conference that there are no funding schemes to help cover my costs for the conference. But you don't get a chance to meet your heroes every day, so must try anyway!  
And more than anything, I would like to document this journey and share the insights of our top conservationists with people around the world who are interested in wildlife and preserving the wild places that surround them. I also feel this could be a great way to promote the necessity of conservation to young people and perhaps guide them towards a career in preserving our most important habitats.
My story
Although this project will be about other peoples' stories, here is a little intro to mine:
I am a 25 year old Conservation Biology student with a mad love for all things wild, furry and with sharp canines! I come from a tiny little village in northern Greece called Panagitsa. During my placement year I spent 7 months hiking up and down a mountain looking for European brown bear tracks and signs (yes, there are bears in Greece, not just sandy beaches and feta). Bears are an amazing example of umbrella species: the ecosystems they inhabit host an amazing array of other species that live alongside them and by protecting bears, we can protect vast amounts of diverse lands. I have dedicated my time to protecting bears and learning how humans and bears can co-exist. I learned that wildlife conservation goes hand in hand with community work. As our first step in that direction, a group of four young people (my bother and sister, myself and our friend Bert) created a youth centre in the village called 'The Children's Orchard'. A place were children can learn an array of practical things, from how to cook a spinach pie, traditional Greek grandma style, to how to produce organic vegetables in a small garden. More than anything, it is a place for children and young people to socialise in a healthy environment, be inspired and learn about living with nature in a more sustainable way. These are the young people I would like to show this documentary to the most and the scientists I will interview in Alaska are the kind of heroes I think modern children should be looking up to!
Myself and my technician (another member of the Children's Orchard team), Bert (media MSc) form a tiny little documentary team. We are ready to embark on our new adventure and meet the top scientists in the field of bear research and management. The 'bear celebrities' as I like to call them.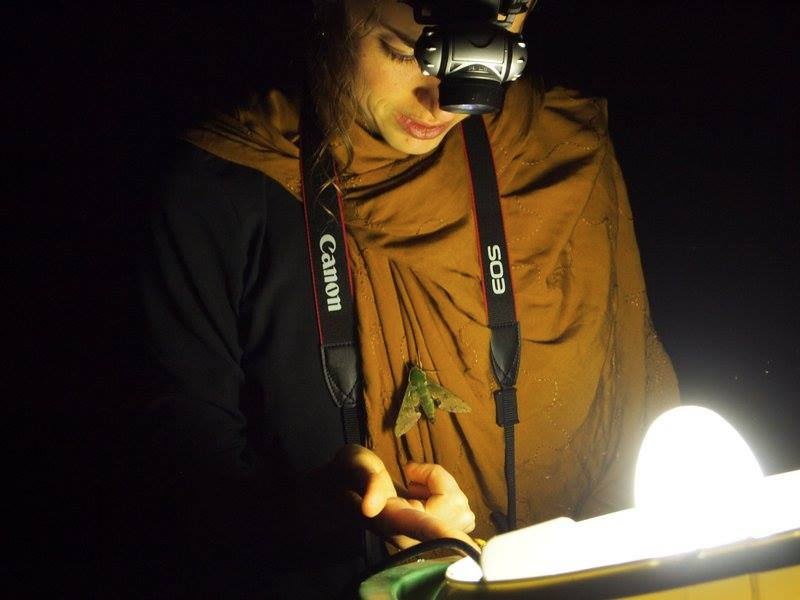 Where will the money go? 
Minimum target (=£495):
this minimum target will cover the conference costs for the team (two of us) - we both need to be able to attend in order to do the interviews! The conference fees are: £155 (student with membership: me) and £340 (adult + membership: technician). Total £495!
Other costs (full target = £2545):
Flights: £800 per person (x2= £1600 total)

Accommodation (6-20/6): we are going to treat ourselves to a 2 person tent on Ship Creek RV park in Anchorage for 14 nights (£300) - go cheap or go home!

Rental car for two days (£150) to get some footage of Alaska's wild places (Denali National Park & Reserve and 

Chugach National Forest) 
Total £495 (conference fees) + £2050 (additional costs) = £2545
If things really take off and we raise more money than the maximum target, we will combine our accommodation and transport so that we can get some extra-amazing footage for the documentary from Alaska's incredible wild places. Instead of pitching a tent and getting a rental car (-£450), we will rent a motorhome and use it as our base! It will cost about £1100 for 14 days (renting and running costs) - Alaska is very expensive in the summer... 
Updates:

We will update on the progress of the conference every day on our twitter page, possibly giving a short descriptions after each presentation. We have also designed a blog for the purposes of this project and we will keep it alive throughout the process! We will give daily updates on the interviews and general Alaskan adventures every time we get the chance. We cannot guaranty wifi in the middle of Denali National Park, but we will make sure to upload some cool pictures every couple of days! If we don't, assume that we are in the belly of a grizzly...
What's in it for you, eh?
We are extremely grateful for every bit of support. But apart from our sincere gratitude, we would love to be able to return a little portion of the love! Here is a short description, but look on the right for more detail!
There will be gifts for donations starting from £5!
The largest gift will be for a £250 donation. 
For anything more than than, we will forever be in dept... Please feel free to ask us for any of the other gifts, or something else you would like us to bring you back from Alaska. 
All donations, however big or small, will receive a thank you email and our deep gratitude for helping us go to Alaska and meet our heroes. Bear hugs to you all!


Spy on me and the team preparations here: 
Blog: https://bforbears.wordpress.com/
Facebook: https://www.facebook.com/angeliki.savvantoglou
Twitter: https://twitter.com/savvantoglou
Follow us and get updates on our progress and adventures! 
Also, follow our activities at the youth centre, the Children's Orchard: https://www.facebook.com/spiresporo/

Help us get there!
We need as much help as we can get! You don't need to give money to help us succeed! Please talk about this project with anyone you think would support us – on Twitter, Facebook, LinkedIn, by email, telephone, in a chat over the fence or on your blog. Can you think of anyone that would be interested? Please share shamelessly! And if you can spare it, we would really appreciate your donations! Please sponsor us and help make this happen.